Josh joined CFRR over a year ago, shortly after we reopened from quarantine. His energy & thoughtfulness is exactly what we needed after being away from our community for so long. He wanted to find something that worked. He wanted to be consistent with his workouts. He wanted to surround himself with like minded people. He has done all that and more!
You can always expect the first words out of his mouth to be, "How's your day?" or "How are you doing?". This might be because of he's the owner of a counseling center for the youth & their families or it could be because he's just an awesome person that truly cares about everyone. He pushes himself outside of his comfort zone all while celebrating, not only his wins, but the successes of everyone around him.

Cheers to you Josh & all your accomplishments. We are beyond honored to have your as a part of our community.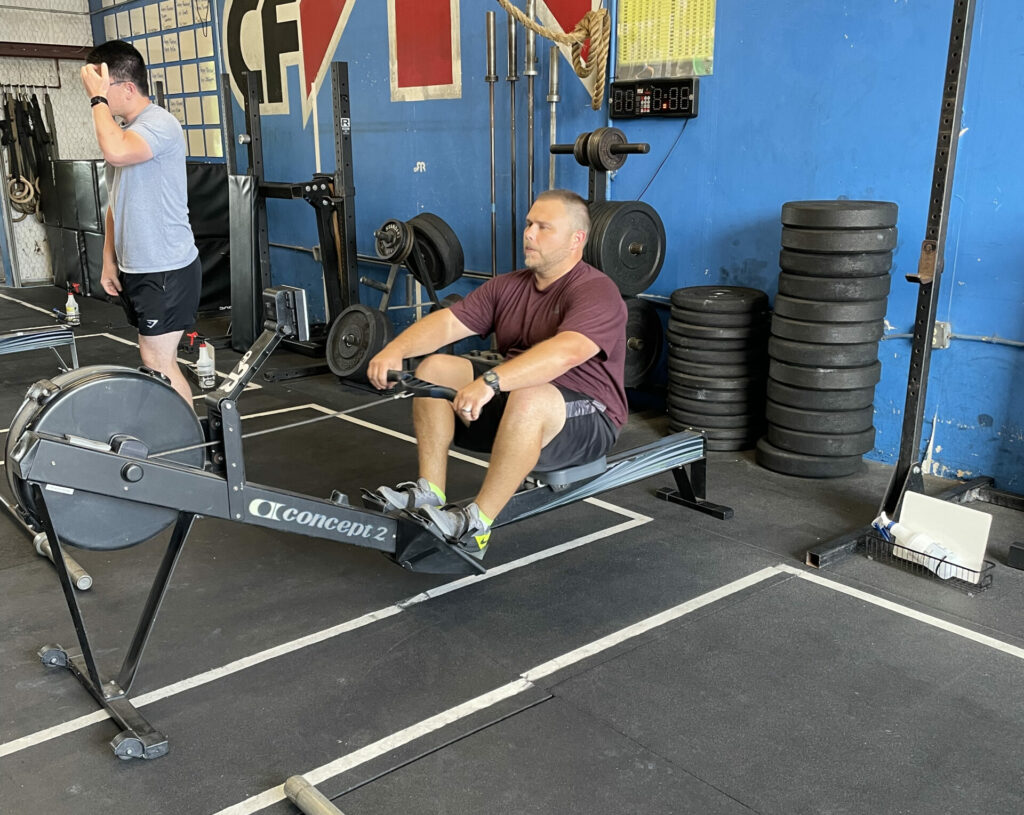 1) What is your biggest motivation?
It has to be the community. I've worked out on and off for 20 years and have always lacked consistency. Our CFRR community (including both staff and athlete) has me motivated to be consistent for an entire year now, and I was getting to a place where I didn't think that was possible.
2) Your favorite quote or words to live by?
I mean, this would probably be about my faith or my family, but since this is an athletic community…"Train today to train tomorrow." A buddy told me this one time when I was dealing with an injury. I've tried to push myself, without injuring myself during this past year. Most of the time with success.
3) What is your current training goals/PRs?
For me, my goal continues to be consistent workouts.
4) Take us back to your first day of CrossFit… How did you feel? How do you compare it to workouts today?
I felt nervous on day one. Really not knowing what to expect, but I guess, inside I already expected CF to be impossible. But today I see CF as accessible to anyone. And I love it.
5) What advice do you have for new athletes just starting out in CrossFit?
Show up, ask questions, take in slow, get to know others.
6) Tell us about a moment you felt most proud of yourself during a workout?
When I was able to kick up for a handstand push up. To date, it is still my only party trick, but I'm proud of it.
7) What are your hobbies, interests and/or talents outside of CrossFit?
My wife and kids, my church family, and my friendships are all I have time for. I have all the gear for about 8 hobbies but can't find the time to do them with my work and family commitments.
8) What's your favorite part of CrossFit Round Rock?
The people. Doesn't everyone say that? From day one, when Sam welcomed me with open arms, to Landon and Adrian, Nathan, the other coaches and all the athletes, the people are the heart and soul of CFRR and are by far my favorite part.
9) If you could create a WOD and name it for yourself, what would it be?
I love bench. I like handstand pushups, and I like shoulder to over head. My favorite cardio is rowing. I like deadlifts. Maybe we just do 300 bench presses and call it quits.
10) How has your diet changed since starting CrossFit (if it has), and what foods do you rely on most?
More than anything i just continued to focus on working out consistently. I am starting to get more interested in tweaking my diet now that I have accomplished working out consistently for the past 12 months. I know that is going to be the biggest part of getting healthier.