A tale of two nerds lifting heavy shit!
How it all began over 8 years ago….
Scott's Version:
Blame the Wounded Warrior Project (WWP) for all this craziness. I was struggling with ongoing mental and physical injury issues from my time in Military combat. I was also not very active, was not watching what I was eating, was not sleeping very well, stressed by my job, and still trying to be a dad who was active in my children's activities and lives. The WWP posted and sent out to its members about fitness opportunities in different areas of Texas. CrossFit was one, and CrossFit Round Rock (CFRR) was listed as participating location in the program. I nervously signed up, because I knew something had to change and soon, so I committed to going in with an open mind.

Right off the bat, my nickname "Big Sarge" is what I was called, and the work began with Elements and some honest feedback from my coach. Back then there was no Wodify, we used notebooks to record and track our progress! (They were kept in containers by the roll up door) Other Veterans had joined in as well. We had a good mix of backgrounds and corps, and we all messed with one another like soldiers do, but we all had each other's best interests at heart, and pushed each other to succeed. It was an environment that made me better, stronger, and obsessed with going to CFRR all the time to be around this community of knuckleheads that could not get enough of each other. (This is how the "Festive Burpee" was born)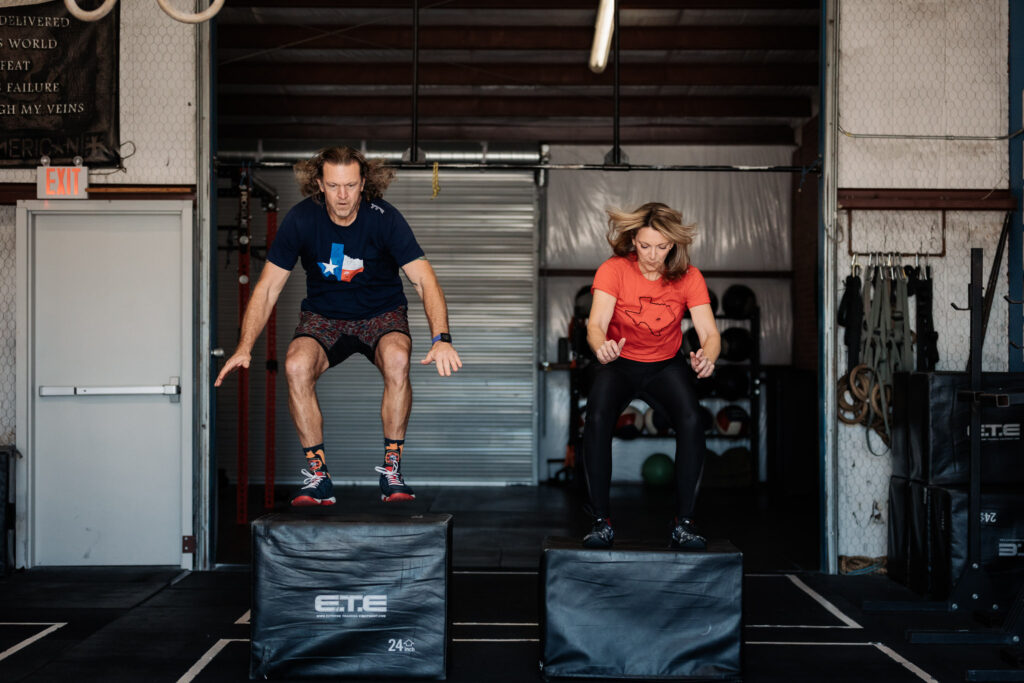 We would all do local competitions, either singles or as a team, banding together in support of one another. I called it "the CrossFit way" cause that what we all do! Cheer each other on til the end, because time expired or not..NOBODY QUITS! (also how "Embrace the Suck" came along) I bragged and talked about the gym to my wife all the time! So much so that she was getting curious, jealous, and downright tired of hearing my big mouth yapping. She came with me to a Saturday workout to meet everyone and check out this CrossFit thing. Then she came to another class, and another class, and then the WWP announced that it would pay for your spouse to attend as well! Ohhhh….it was now on like Donkey Kong!
Here comes Carrie….but not the gal I married, oh no! This gal was moving, and lifting, and socializing, and straight killing it! More than once did this sweet, soft spoken, reserved gal look over at me struggling to lift a weight and said to me, "shut up and lift it already!" I called her "Lil Sarge", but I was off because she was already being referred to as "The General" and I was and am very proud of her.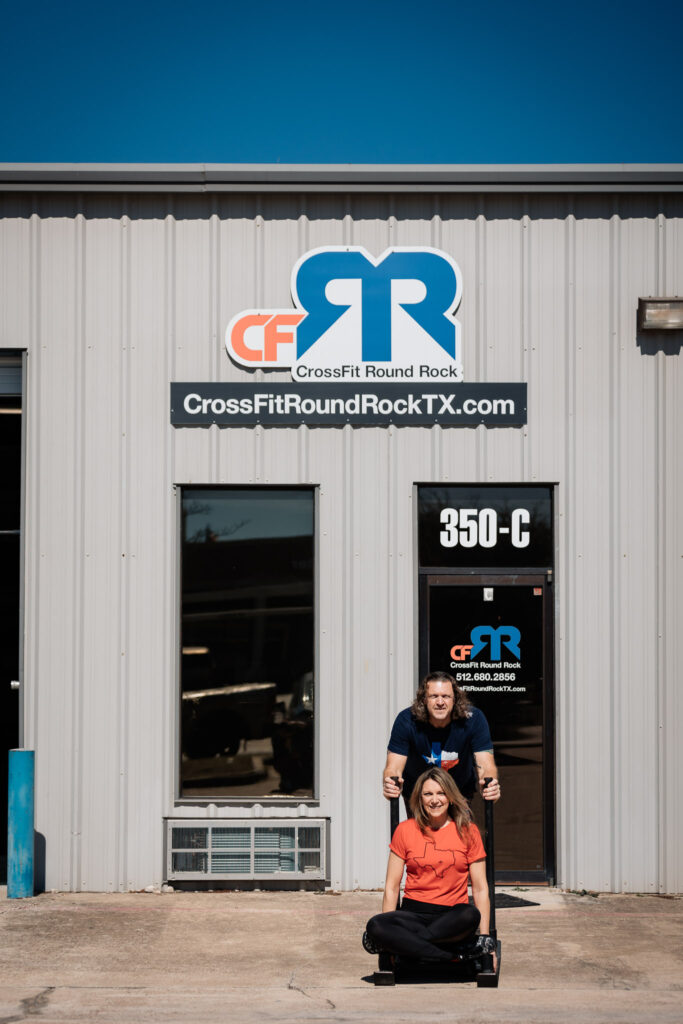 Our diet was not overly horrible, but it was not the best! Awareness is what we were lacking, and the focus on nutrition and how to track it was an incredible lesson that we both learned from Adrien and Landon. The introduction to diet awareness came courtesy of the gym's "Reborn Challenge".
Learning about portion size, caloric intake, macros, etc.. helped propel us both to another level. We truly are what we put into our bodies daily, and without controlling what you are intaking you will not be completely successful in your fitness!
Fitness and diet go together, they are not separate things. It took time but once we learned this, and how to manage it, we both looked and felt better than we ever had.

One of my greatest joys has been to have done, not just one, but several team CrossFit competitions with Carrie. We both motivate each other, push each other, and don't let the other one quit. We have both done about 7 Opens so far and are about to do it again this year. We have seen a lot of changes happen over the time we have been members at CFRR. One thing though that has always stayed the same, is the incredible and supportive community that is always working to get a little bit better.
Carrie's Version:
When I was younger, I was terrible at team sports. I was too shy and too awkward, and I always would have rather been reading a book. It wasn't until high school that I realized that my body wasn't good enough by "society's" standards. I needed to be thinner, look different to fit in. I'm embarrassed to admit that I was a victim of advertising and magazine covers, but I started working out and dieting with that in mind.
While I wasn't a fad diet or a fad exercise person, I decided that if 1,200 calories a day and an hour of working out would get most people "fit". So, I would do half those calories and twice the workout. There was a schedule, a formula, check this box and if you did that all your body dreams will come true. I fooled myself into thinking it was about health when really it was about trying to fit become a size I was never destined to be.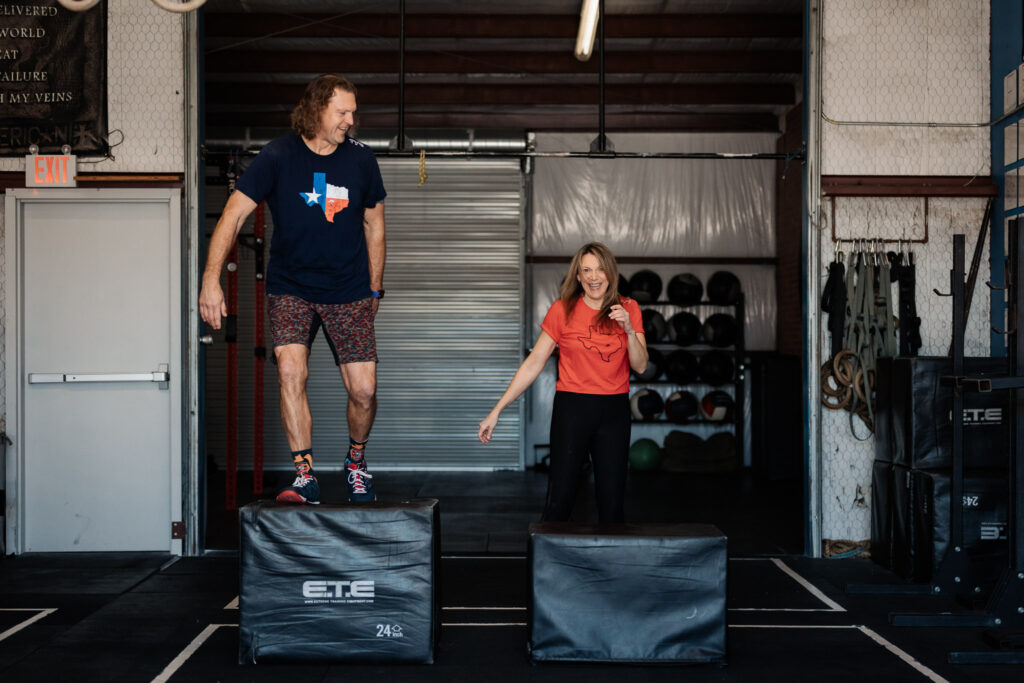 The thing is, I enjoyed moving. I liked the focus that working out required and as life progressed, I abandoned the extreme dieting that threatened my health and just tried to work out as often as I could, hikes with the kids, treadmills, workout videos at home. But, after the kids got older and even the heaviest metal music wasn't making my feet move faster, I realized there was a problem with my rinse and repeat workout routines that were barely maintaining the body status quo. One, it was mostly a solitary affair, and two, I literally had no idea what I was doing. Furthermore, I still wasn't doing it with my long-term health and fitness in mind.
Fast forward to Scott drinking the CrossFit Kool-Aid, and yes, listening to him talk about it, I was intrigued, but I was also intimidated. Small class size, very fit people…I was an introvert who wasn't sure if I would fit in. After all, I may have "worked out", but I was never an athlete. After the first couple of classes though, I realized that all sorts of people do CrossFit and that everyone is welcome.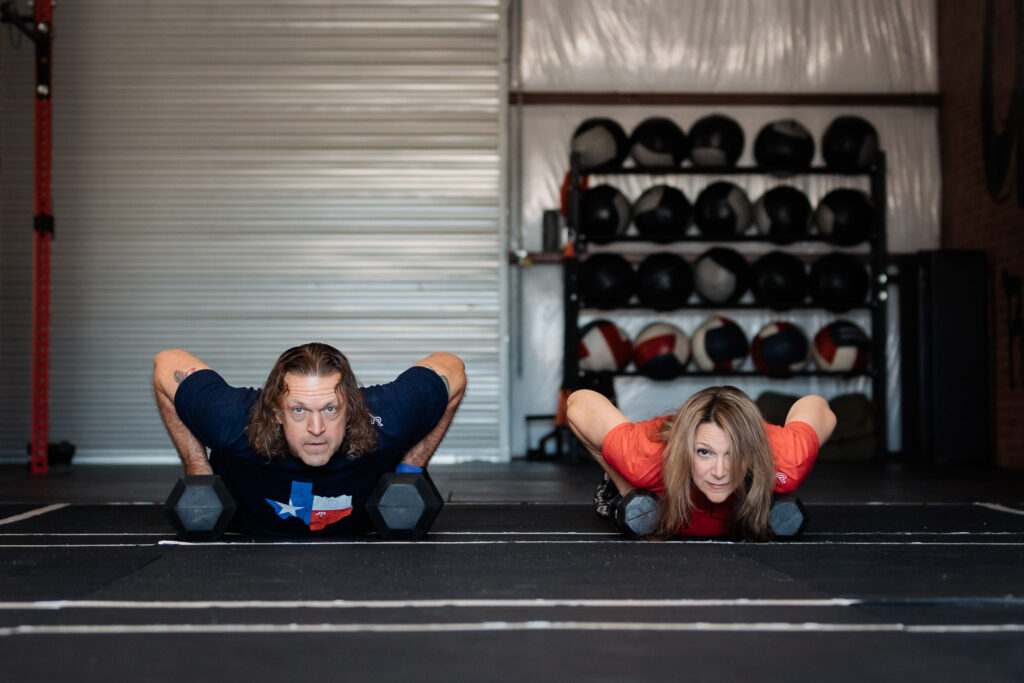 It's just family & friends, cheering each other on and talking about their day while lifting weights. There was acceptance and love and joy (except on running days). I was inspired. I was excited. I got to work out with Scott and yell at him when he was slacking! It was fun, it was different, and the coaches challenged and encouraged me. Scott encouraged me too. It brought us closer together, we had shared fitness goals for once, and the time at the gym became like mini dates, another commitment we made to each other for the long term.
Yep, I drank the Kool-Aid and asked for seconds. It wasn't until I came to CFRR that I realized that this body of mine can do far more miraculous things than just fit into a certain size jean. In this community, I learned how to listen to my body, accept it and appreciate all the fantastic things it's capable of doing. I found my people and finally got to participate in the fun side of team sports that I'd always missed, the camaraderie, the shared exultation of having a great game, and the side hugs of comfort when the day isn't going quite so well. So, we offer our grateful thanks to the coaching staff and the community for giving us not only a lifestyle, but a team, a family, that we love!